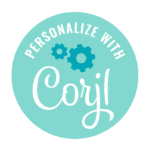 Corjl is an online editing platform that is FREE, easy, and fun to use!  With Corjl, there is no waiting for your digital items or personalized product proofs. You can edit your template on your computer or mobile device and have it right away!
WELCOME AND THANK YOU
​
We are thrilled to be partnering with the Corjl editing platform to bring you instant download editable templates! On your desktop or laptop, locate the navigation menu to the right of this page to go directly to the topic you are looking for to get started with your template.
​
For mobile editing, please view MOBILE instructions.
Chrome Browser recommended for best results with Corjl.
​
YOUR CELEBRATION STARTS NOW!